If you've been overworked, overwhelmed and under-fulfilled in life, boy do I have something exciting for you! How would you like to MAKE Yourself a Priority and gain more clarity, purpose, and direction in the process? For your best life – 2019 and BEYOND?!
YOU MAY BE WONDERING how you can make yourself a PRIORITY when there's sooooo much going on! I get it, stuff is clamoring for every minute of your day and you barely get to do the minimal of what you want. And if you do carve out a few moments, do you feel guilty about it, right?
Yeah, this was me! And I held a lot of resentment because others couldn't see that I needed a break. But you know what – it wasn't about them, it was about me! It was (and always is) my responsibility to take care of me. So, instead of
waiting on it to be the right time;
waiting for people to see me;
waiting on so and so to give me what I needed;
waiting on every other excuse that kept me procrastinating,
I became accountable for my own self-care.  HOW can you give time, energy and resources to others and deny yourself the same investment? Listen, putting yourself first does not mean you are putting anyone else last. It means you recognize and accept that you are a human being with needs.
This is why I created The Self-Approved™ Toolkit. It's a Library of Tools, Tips, and Techniques to Make Yourself a Priority and the first course launched last week: Revive Your Life, Reclaim Your Time. Here are a few things WE SHARE in the course:
Tools for learning more about (and getting back to) the real you.
Shore up what you believe and how you feel about you.
Improve your confidence in your direction.
Become self-aware and learn how to adjust and conquer triggers.
Learn HOW to address your self-care needs and make yourself a priority.
Explore thought-provoking questions into your true thoughts and emotions.
Learn how to create synergy in your life so every part works together seamlessly.
And this is not all!!
As I build out the library and increase course availability, I want to offer a HUGE discount for the first few who join The Self-Approved™ Toolkit and enroll in my very first course, Revive Your LIfe, Reclaim Your Time! 
Take a preview and Enroll through January 15, 2019, for the Introductory investment of  ONLY $99.00!
Don't hesitate! This limited offer Expires January 15, 2019!
Click HERE to Enroll!
Use Code: REVIVE99 to SAVE on this INTRODUCTORY OFFER!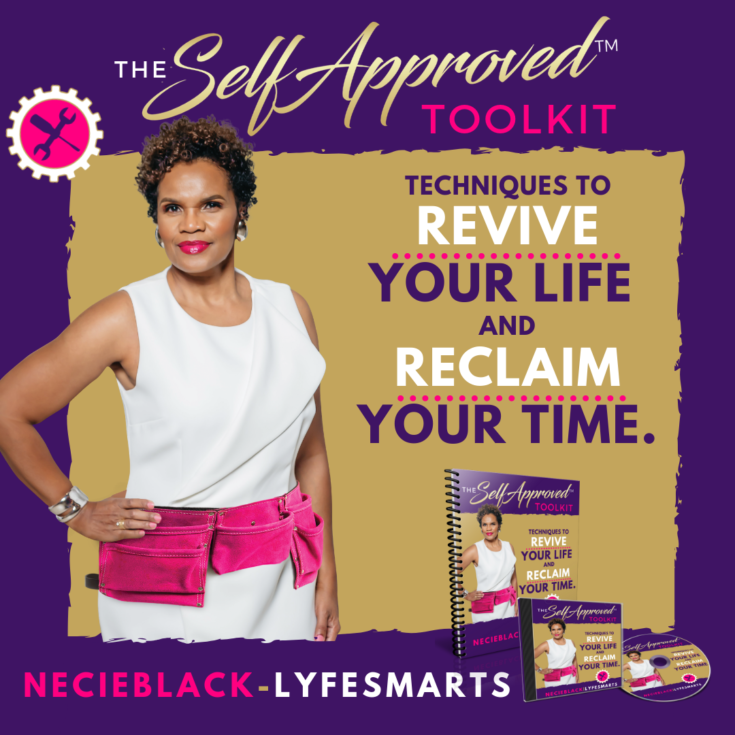 Click HERE to Enroll!
Use Code: REVIVE99 to SAVE on this INTRODUCTORY OFFER!